Cookies in the News
All the latest on what's hot, what's in and how it involves cookies!
March 27, 2011 - For the royal wedding of Prince William and Kate Middleton, most things are very traditional, except for the Groom's cake. Prince William, who seems to love his sweets, has requested a cake made out of cookies, or biscuits as the British call them. The cake will be made of 1700 McVitie's Rich Tea Cookies and put together with 37 pounds of chocolate and beautiful chocolate decoration, big enough that all the guests can enjoy it.
Oct. 13, 2010 - Martha Stewart Living announced at their cookies and milk party at the Food Network Food and Wine Festival that they are planning on releasing their first iPad app on Nov. 1. Called "Martha Stewart Makes Cookies," it will feature over 50 cookie recipes along with directions, shopping lists and color pictures of each. Also to be released on the same day is the new holiday cookie special issue magazine.
Aug. 25, 2010 - Pittsburgh will hold it's annual Cookie Cruise down Pittsburgh's rivers tonight, according to the Pittsburgh News. Held in honor of their late Mayor Bob O'Connor, it's based on the Wedding Table idea, a part of Pittsburgh tradition, where everyone takes home cookies at the end of the evening. What started as a political fund raiser has been turned into a charitable event with proceeds this year going to the American Diabetes Association. The cruise includes a picnic buffet and the cookie table with fireworks topping off the evening.


June 12, 2010 - Crime Fighting Cookies - I-Mei Foods, a large cookie manufacturing company in Taiwan has teamed up with the National Police Agency in that country to begin putting warnings on their cookie packaging about dangerous telephone scams. Thousands of people fall for the scams every year and and the police have instituted this anti-phone campaign to educate them. A hotline number where they can get more help is also included. Cookies on the frontline of crime fighting - who knew!


April 19, 2010 - Former White House pastry chef, Roland Mesnier, serving as a judge at the WV Book Faire's Edible Book Contest, spoke about some of his memories from the Clinton White House. Thousands of people would visit the White House at Christmas time, he said, and he needed to start the season with at least 120,000 cookies or they couldn't keep up with the demand. He said it came mostly from "the club of blue-haried ladies." They would wander through and open their purses and put whole plates of cookies into their bags. He said many of them would later put holes in the cookies and string ribbons and give them as Christmas gifts so he was baking not only for the blue-haired cookie thieves but for all their neighbors as well!
April 8, 2010 - The Yankton Press & Dakotan featured an article about a young high school drafting class student who designed a set of 5 cookie cutters to be used for the 3,000 cookies that will be served at the upcoming Capitol Centennial Celebration in Pierre, South Dakota on June 19th. Tony Perk, District Manager of A"viands, was asked to provide the cookies to the event and wanted ones with a South Dakota theme but could not find any available. He then went to a friend who was a technical education teacher to see if his class could come up with some. High School student Brian VanDeRostyne, in the Drafting class, worked out the project and created five Dakota themed cutters - a buffalo, coyote, pheasant, South Dakota state shape and the state capitol building. Once the designs were approved they were transferred into three-dimensional imaging software and produced with a 3D printer that melts plastic into layers and builds the objects. The result was 5 solid white plastic cookie cutters that will hold up to repeated use. The cutters will only be used for the cookies at the Centennial and not sold but there will be a card with the cookies explaining how the cutters were made.

Feb. 10, 2010 - Today's issue of the Chicago Tribune carries a story about what Abraham Lincoln ate. Apparently Abe was not much of a culinary explorer and ate very lightly. The one time during the Lincoln Douglas debates when he mentioned food was a story about savoring his stepmother's Gingerbread Boys. The article also includes a recipe for Young Abe's gingerbread men adapted from "Lincoln's Table" by Donna F. McCreary.
Jan. 25, 2010 - You could win $5,000 in Betty Crocker's Mix It Up With Betty Cookie Mix Recipe Contest. All legal residents of the U.S. over 18 are eligible to enter. All it takes is submitting a recipe that uses at least one 17.5 ounce Betty Crocker Cookie Mix product and no more than 9 additional ingredients. Entries must be submitted online. Go to http://www.bettycrocker.com/coupons-promotions/cookie-recipe-contest/mix-it-up-cookie-contest-official-rules and follow the rules to enter.


Jan. 23, 2010 - The Mt. Airy News, NC reports that tinsmith and cookie cutter maker, Peter Blum, III has been given an Award of Merit by the Boy Scouts Dogwood District. Mr. Blum is a colonial tinsmith for Old Salem and his work has appeared in movies such as The Last of the Mohicans and The Patriot. He became involved with scouting while his son was in the troop and teaches merit badge courses in the Old Hickory Council.


Jan. 19, 2010 - Fans of rock singer Lady Gaga and her wild fashions will enjoy this cookie version of some of her far-out costumes. Cookies were created by several of her fans and are making the rounds of the internet. To see the cookies, each posted beside the real life version of the costumes, go to http://community.livejournal.com/ohnotheydidnt/43140129.html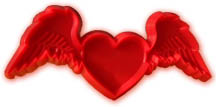 Jan. 13, 2010 - The country music singing duo Sugarland ran a contest on their fan site to win one of 3 of their logo (a heart with wings) cookie cutters. Entrants had to respond on the website or text a message to them within a 3 day period. Winners were chosen at random. There were over 600 entries from both sources. Instead of giving away 3 cookie cutters they ended up giving out about 20.

Jan. 4, 2010 - When Gourmet magazine ceased publication with the December 2009 issue, owner Condé Nast quickly moved to sell Gourmet's collection of 3,500 cookbooks. New York University's Fales Library wanted to buy them but did not have the funds. That's when cookbook author and James Beard award-winner, Rozanne Gold, stepped forward and donated $14,000 so the library could acquire the archive. Says Gold: " It's a very interesting collection. . .The decisions Gourmet made to keep certain books really tells the history of food in America and how you decide what's important."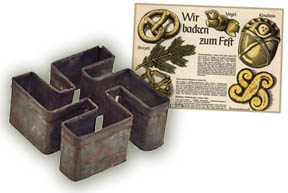 Dec. 3, 2009 - Christmas seems like a strange time to feature an exhibit about Nazi propaganda but the National Socialism Documentation Centre in Cologne, Germany is doing just that. Until Jan. 17, 2010 they will display an exhibit about how the Nazi's tried to turn Christmas into a pagan winter solstice celebration with items such as swastika ornaments for the tree and even a swastika cookie cutter. Also included in the collection are recipes for pro-Nazi baking projects using items that allow for war rationing. The Nazi's tried to wipe away any mention of Christianity from the entire holiday season.
Nov. 16, 2009 - Ellen DeGeneres spent the last year campaigning to be on the cover of O, The Oprah Magazine. She finally got her wish as the December cover was unveiled, featuring both Ellen and Oprah on the cover. To celebrate the occasion, Oprah Winfrey sent Ellen a large cookie featuring the cover of the magazine in icing and everyone in Ellen's audience received a smaller version of the cover cookie, also.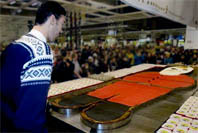 Nov. 12, 2009 - From the Associated Press comes this story out of Norway. As part of a Guinness Book of World Records celebration of World Records Day, the world's tallest living man, Sultan Koesen of Turkey, unveiled the world's largest gingerbread man at an Ikea store in Oslo. The 1,435 pound cookie beat the previous record of 1307 pounds set in Texas in 2006. A representative of Guiness Book of Records presented the diploma.