Traditional Easter Pastry of Malta

In Malta, a country composed of three islands in the Mediterranean Sea, they bake Figolli for Easter, a tradition which is centuries old. It is believed that they date back to the 16th century. The name Figolla (the singular of Figolli) comes from the Italian word "figura" which means shape.
Malta is primarily a Catholic country and Easter is a highlight of the religion with many traditional foods associated with it but the one most closely associated with families and children is the baking and giving of Figolli at Easter.
Figolli are basically large shortbread like cookies with an almond paste filling. Two identical shapes are cut. These are usually very basic, simple shapes with no intricate details. The Figolli cutters are usually large and made of tin. The almond filling is sandwiched between the two cookies before baking. The edges are then sealed, much like a top and bottom pie crust and when they are finished baking they are decorated with an icing or covered in chocolate. Most then have a foil wrapped candy egg added to the top. Although they can be any size, tradition dictates that they are quite large as cookies go. An 8 to 12 inch figolla is quite common. The old traditional shapes often seen are of men and women with paper faces attached, fish and baskets (perhaps old fertility symbols), but bunnies, hearts, ducks and almost any shape that would appeal to a child are used today.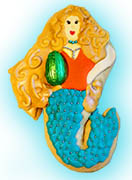 They are made during Lent but not given to the children until Easter morning. Most families make them together, but they are sometimes given out after Easter services at church or, given to you by a friend, and if you have no other way to get them, they are sold commercially by most bakeries in the country.
The video below shows a figolla being made. Notice the beautiful figolla cutter the woman is using. This type of cutter is available on Malta but any large cookie cutters or paper patterns can be used. Why not try some to impress your family and friends. They are definitely worth the time!
Figolli Recipe
This quantity will give you enough dough to make approximately six average sized Figolli.

Ingredients
For the Pastry:
8-½ cups (800 g) all-purpose flour, sifted
2¾ cups ( 350 g) sugar
3½ cups (400 g) unsalted butter, cool
4 egg yolks
Zest from 1 lemon or orange
Ice Cold Water to bind (orange juice made be used in place of some of the water.
Mix butter and flour in large mixing bowl until it resembles breadcrumbs. Add the lemon zest and mix again. Mix in the egg yolks and just enough cold water to make a stiff but pliable dough. Separate dough into 2 balls, wrap in plastic and chill for 45 minutes.
For the Filling:
4-¾ cups (600 g) ground almonds
4-¾ cups (600 g) confectioners' sugar
3 egg whites
2 tsp. orange blossom water
zest of 2 lemons
While the dough is chilling, make your filling. Mix the ground almonds and icing sugar (or use ready-made marzipan), add in zest, then add the egg whites and orange blossom water, mixing until incorporated.
Assembly & Baking: Line baking sheets with silicone baking mats or parchment paper. Roll one ball of dough on a lightly floured surface until it is about 1/8" thick. Cut your shapes using the cutters of your choice--you will need 2 identical pieces for each figolla. Place each shape on the lined baking sheet and spread a thick layer of the filling, leaving a 3/4" edge untouched, then cover each shape with another of the same design, gently pressing down around the edges to seal. Repeat with second ball of dough. Bake until edges are light golden brown. This varies with the size of the cookie but about 30 minutes for an average(10") cookie.
Let cool on wire racks, then decorate each pastry with royal icing, chocolate, edible glitter or sanding sugar and don't forget the chocolate Easter egg!
Our beautiful Figolli examples are by Hope Vella of Nice Cakes & Sweet Treats. See her Figolli album on Facebook.