January 2013
A New Dog Biscuit Baking Kit Featuring Snoopy

Released a few months ago by Cider Mill Press, this kit features a cookbook with 25 organic dog biscuit recipes and lots of Peanuts cartoon strips featuring Snoopy. It also contains 3 stainless steel outline cutters of Snoopy's head, dog bone and dog house. It's available in a number of places online (www.cidermillpress.com; Amazon, The Lighter Side) as well as in stores. ISBN number is 978-1-60433-289-6. Please note that the pictures of the kit at these sites do not contain the correct cookie cutters. The cutters packaged with the kit are the ones shown here.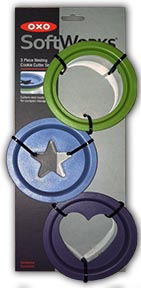 New Set of 3 Stacking Cutters

Target Stores are selling a new set of 3 round sturdy cutters. Shapes are cirlce/round with green top, star with blue top, and heart with purple top. Cutting edges are stainless steel with a colored hard top which the website says is plastic but definitely feels like coated metal. They are sold on a 14"x5" black & gray card. 3¼" diam. circle, 3" w heart and 2" diam star. Outside gripping edge is 4¼" for all and they stack neatly together for storing. They are made by OXO SoftWorks and are sold online at Target and in limited quantities in some Target stores.
September 2012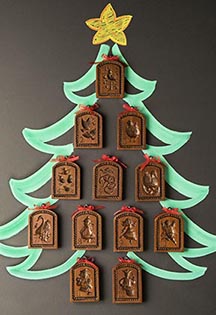 House on the Hill's New Set of Christmas Molds

House on the Hill, a wonderful source for springerle cookie molds, has announced its new and exclusive series of 12 images from the lighthearted favorite holiday carol - The Twelve Days of Christmas. The series was designed by Judy Jeske and the original was carved by Vince Marine. Pick your favorites or buy them all. Available in sets also. Each Cookie Mold measures 2 1/4" x 3 1/8". Available through http://houseonthehill.net/cookie-molds/ or by calling (toll free) 877-279-4455 (U.S. only) or 630-279-4455.
July 2012
Make Cookies Shaped Like America's Favorite Candy


Hershey's says it's time to get creative in the kitchen! A set of six KISSES Milk Chocolate-shaped cookie cutters is perfect for creating delicious cookies. Use two cutters to create a layered-look cookie... big cookies with shaped cutouts... or filled cookies with a KISSES Milk Chocolate-shaped cutout in the top cookie. Riveted steel cutters range in size from 1½" H x 1¾" W to 3" H x 3½" W; set comes nested within a 4" diameter x 1⅝" H silver tin with the chocolate-brown HERSHEY'S KISSES Milk Chocolate logo printed on the lid. To order your set, go to www.hersheysstore.com/product/7759.


New Sets of Wilton Disney cutters


Wilton has 4 new sets with Disney themes. The first is a Disney Princess set of pink castle and lt. blue crown; the second set is Disney Fairies and contains a purple hisbuscus flower and an orchid butterfly. The other two sets are Disney Pixar. The first is based on the Cars movie and has a black flag and red race car. Set four is Toy Story and has a purple spaceship and brown sheriff's badge. All the sets are color coated metal and approximately 3½". So far they seem to be rather hard to find and are only available in some areas. Hopefully they will be nationwide soon. Keep your eyes open for them.
April 2012
Bug Cutters for Spring

Oriental Trading Company has a set of 12 bug cookie presses (item no. IN-5/1621) as they call them for only $2.19. The set consists of 3 each of 4 different designs in different colors, black, brown, orange and yellow. The cutters are plastic with impression lines and a tab handle. They range from 2¾ to 3¼ in size. Shapes are: dragonfly, ladybug, spider and beetle. Available at www.orientaltrading.com or 800-875-8480.


February 2012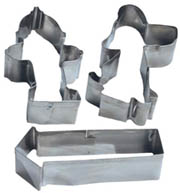 Standard Publishing's Adventures on Promise Island, the theme for this year's vacation bible school 2012, has a set of 3 cookie cutters to go with the theme line of the course. The cutters are about 2¼" high and made of stainless steel. Shapes are Cooper, the dog, from the story characters, a fire hydrant and an arrow. They are available from Barnes & Noble online, as well as ConcordiaSupply.com and others.
December 2011
Coca-Cola Santa in Cookie Cutter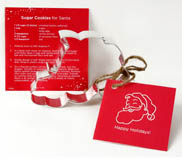 The classic Santa illustration from early Coca-Cola ads is now a cookie cutter. The cutter, a tin outline packaged in a clear acetate box with a hangtag and cookie recipe, is 5 x 5 and looks to be made by Anne Clark Ltd. It is available on the MyCokeRewards.com website by redeeming only 500 points! That's a lot of Coke so we hope you're thirsty!
A New Cookie Cutter from Hammer Song Tin

Betsy Cukla of Hammer Song Tin has announced that they have a new little cookie cutter just in time for Christmas. It's a little reindeer called Bambi and is available through LaCuisine in Alexandria, VA, 800-521-1176 or from their web site at www.lacuisineus.com. The cutter is 3" high and made of tin. For decorating instructions on this cutter you can check Betsy's blog at www.hammersongtincookiecutters.blogspot.com. Betsy also has a CD in the works with instructions for decorating all of Hammer Song's Christmas Cookie Cutter cookies.
November 2011
Hanson Band has New Cookie Cutter
Fans of the Band Hanson have something to add to their wish list this Christmas. The band has just come out with a new set of cookie cutters in the shape of their logo. Made of stainless steel and packaged 2 to a set, the cutter is 4½" diameter. Cost is $20 for the set of 2. You can order from their website at: http://www.hanson.net/site/sections/559
October 2011
CollectionsEtc.com features 2 new seasonal sets.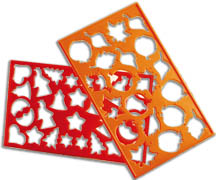 CollectionsEtc.com from Winston Brands, Inc. has a Harvest/Holiday Set of 2 Cookie Cutter Presses to cut multiple cookies at one time. The red Holiday Cutter makes 28 cookies (7 different shapes) and the orange Harvest Cutter makes 20 cookies (5 different shapes). Each sheet is 15" x 9" and made of plastic. They comes as a set, item #24016 for about $8. Available online or by phone, 620-584-8000.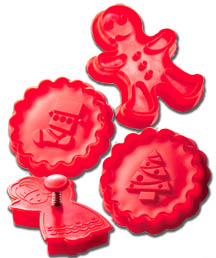 CollectionsEtc.com is also selling an exclusive set of 4 plastic cutters with a spring loaded handle that presses an imprint into the dough. This set of red cutters includes a gingerbread boy, angel (that is very similar to a Hallmark angel from years ago) and two scalloped round cutters. One imprints a Christmas tree and the other a stocking. Made of silicone and plastic the largest is 3¼" x 4" and the set (Item # 24306) sells for about $7. Available online or by phone, 620-584-8000.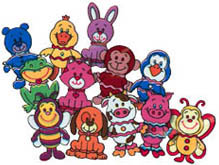 One of the cutest ideas we've found for this year is the Little Miss Muffin - My Surprise Pets series of cookie cutters and toy animals. Each package is a printed foil cupcake shaped bag that includes 1 plastic cookie cutter with a soft stuffed animal toy that fits inside the cutter and a little recipe card. There are 12 different animal shapes and you cannot tell what animal you have until you open the package. Each cutter is approximately 3" h and the soft animal toy has a little hanger so it can be used as an ornament. Each animal shaped cutter is a different color to correspond to the color of the toy. They are being sold in a number of different stores and online and retail for about $1.99 each. We found ours in Toys R Us.

Better Homes & Gardens Exclusive Set


Better Homes and Gardens Special Interest publication "Christmas Cookies" for 2011 has an article on creating an edible Mantlescape using a set of cookie cutters created by The Little Fox Factory and sold exclusively through Better Homes and Gardens. The set includes 7 tin cookie cutters and a decorating kit for $39.95. To order you can visit http://bhg.com/shopping or call 888-556-2892. Item code is: VA0003E. Still available is their Partridge in a Pear Tree set and their Little Imps set, both also made by The Little Fox Factory, that appeared in their publication in past years.


New 3D Soccer Cookier Cutter from new company
BriarMark.com, a new company featuring sports related products for creating great sports parties, is selling their own soccer ball cookie cutter. The plastic 4" diam. cutter's premium 3D design gives the soccer ball cookie a spherical look when baked. You can order it by visiting their website at http://briarmark.com or by calling 818-538-6390 to place an order.
June 2011
Wilton has new sets of Cartoon Cutters
Wilton has 5 new sets of cartoon character cutters. They are color coated metal outlines with 2 cutters on each card. The sets include Sesame Street with Cookie Monster and Elmo; Hello Kitty with Kitty head and full body, Thomas the Tank Engine with Thomas and friend, Sponge Bob and Patrick; and Mickey Mouse icon head and profile head. Some of the cookie cutters have white stickers containing copyright information.
May 2011
Disney's Cars 2 Cookie Cutters
Williams Sonoma has just released a set of 4 cookie cutters for the Disney Pixar movie Cars 2. The 4 cutters in the shapes of the car characters; Lightening McQueen, Tow Mater, Francesco Bernoulli, and Finn McMissle are plastic with a spring loaded insert that imprints details, similar to their Star Wars sets. Cutters are approximately 3" x 2" each and are available now online at the Williams Sonoma website or in stores about mid-June.
April 2011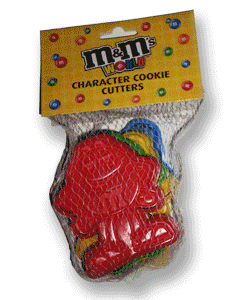 M&M's Cutters
One of the cutest sets we've seen in a while is the M&M's World set of the 4 M&M's characters.One of each in red, green, blue and yellow, each has 2 parts; the outline cutter and a stamper with handle to press in the design lines. Each is about 3½" tall. They are being sold only in the M&M's World stores which are in New York, Orlando and Las Vegas. They do accept phone orders. Cost is $9.95 per set and $10 shipping.
November 2010
Hallmark Christmas Cutter Sets
Hallmark Stores are selling at least four new sets of stainless steel cutters for the Christmas season. Set 1 is called Angel on Earth and contains a 5½" high angel and a 3¼" bell, set 2 is Sweeeeet! and has a 6" high snowman and 3¼" candy cane, set 3 is a gingerbread house called This House is Made With Love, 6" high and a 2½" heart. The 4th set is Build-a-Snowman and contains a 4¼" diam. circle, 2¼" high hat and a 3" long nose with instructions on how to assemble pieces into a snowman face. All sets have a sugar cookie recipe on the back.
Cup Hanger Animal Cookie Cutters
This very cute set of 4 Hookie Cookie animal cutters comes from Hoobbe. Animals include dolphin, squirrel, toucan and dog in bright colored plastic. Each cutter has a "hook" that enables it to hang on the rim of a cup or glass. Cutters are 3½ to 4" high. Available from Pylones-usa.com and other shops.
Second Set of Star Wars Cutters
Williams Sonoma has just released its second set of Star Wars cookie cutters.Like the previous Star Wars character cutters, the sturdy plastic cookie cutters have a spring-loaded inner design. This set contains 4 vehicle cutters - the Millennium Falcon, Vader's TIE Fighter, X-wing Fighter and Death Star. They are available in stores and online. Cutters are made in China exclusively for Williams-Sonoma.
Walgreens Disney Cookie Cutters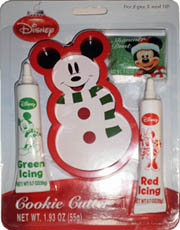 Walgreens Pharmacies are selling a snowman cookie cutter with Mickey Mouse ears. The cutter is a red plastic outline packaged with 2 tubes of icing and a package of shimmer dust, similar to their Halloween Mickey icon cutter. Cutter is made by Kiu Hung Industries in China and distributed by Walgreens. Cost is $1.99. It may be hard to find as not every store is carrying it. We visited at least 5 Walgreens before we found it available.
Also available only in Walgreens is this Mickey Mouse Clubhouse Disney Dough Kit with 3 Disney character cookie cutters, Mickey, Minnie and Pluto. This 14 piece set includes 6 containers of modeling dough with Disney characters in the lids that can be used as cookie stamps, as well as other dough modeling tools. $6.99.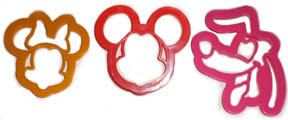 Solutions Catalog and Solutions.com are selling a large cutter that makes all the parts of a Gingerbread House. The sturdy plastic cutter made by Sveico Sweden just needs two presses in the dough to have everything you need to assemble a 7" high gingerbread house. Cost is $12.95 at Solutions.com, or phone1-800-342-9988.
New Washington DC Related Cutter from Hill's Kitchen

Hill's Kitchen, a gourmet kitchenware store in the Capitol Hill neighborhood of Washington, DC, has announced their new yearly cutter made exclusively for their shop. This year's cutter is the Washington Monument. The stainless steel cutter is approximately 4¾" high x 1" wide. Contact Hill's Kitchen, 713 D Street, SE, Washington, DC 20003 if you are interested in purchasing it. They will not ship single orders. 202-543-1997, email: Leah@hillskitchen.com
September 2010
Strawberry Shortcake Cutter from McDonalds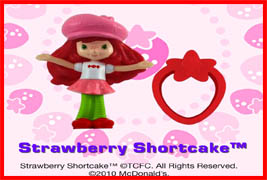 From Sept. 17 thru Oct. 14 McDonalds has teamed up with American Greetings to give out a series of 6 different Strawberry Shortcake characters poseable dolls in their Happy Meals. The first one in the series is Strawberry Shortcake with a sturdy red strawberry cookie cutter. Cutter is 2½ x 1¾ and has a little character stamped on the leaf at the top. Cutting edge is imprinted with ©TCFC Made for McD's 2010. Check it out quickly before its gone!
July 2010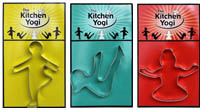 Yoga Series Cookie Cutters
For those of you who enjoy the art of yoga comes 3 new cookie cutters from The Kitchen Yogi. Each cutter is individually packaged and sold separately. These are the first in a series from two enterprising entrepeneurs, Karen La Du and Amy Wolochowicz of New Jersey. Each cutter comes with a different healthy cookie recipe and instructions for the yoga pose. Tin cutters are 5-6" high and are made in the USA. Ordering instructions are available on their website at: http://thekitchenyogi.com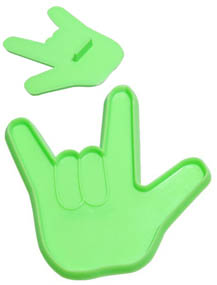 I Love You Sign
Hearmore.com has a new cookie cutter that says I Love You in Sign Language. Green plastic cutter is 4" h with impression lines, back and handle. It's available from the company at http://hearmore.com or by phone at 800-881-4327 (voice) or 800-281-3555 (TTY). Amazon.com is also carrying it.
Finger Puppet Cookies for Soccer Fans
Just in time for World Cup, RBV Birkmann, a German housewares company that makes lots of clever cookie cutters, has introduced its soccer finger puppet cookie cutters. Cutter is the head and torso of a soccer player with 2 holes where the legs should attach. The idea if for children to put their fingers through the holes as legs for the cookies. Then they can play with their food! English firm, Lakeland Ltd, had a similir set of girl and boy cutters last year. Soccer player cutter is 5½" h and stainless steel.

Also from Birkmann are very detailed Bride and Groom cutters with inner lines, each cutter is approx. 3" tall and a tiny 2" cell phone cookie cutter. All are stainless steel and stamped with the Birkmann logo.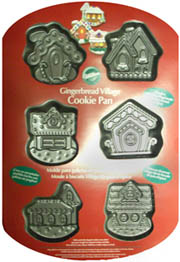 Wilton has a new 6 cavity cookie pan called "Gingerbread Village" which included some really charming gingerbread house shapes. The non-stick pan measures 11¼" x 15½." It should be available in most stores about September 1st. Keep an eye out for it.
Also in stores now is the 2011 Wilton Yearbook, 240 pages full of instructions, products and ideas.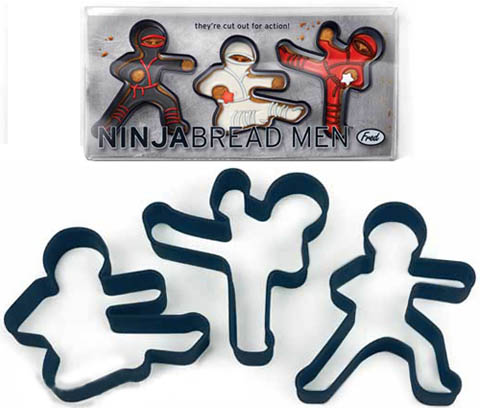 Fred, the people who brought out ABC cutters (Already Been Chewed) have a new set of cookie cutters coming out in August. Ninjabread Men Cutters are a set of 3 plastic outlines for creating action warrior cookies! You can go to http://www.perpetualkid.com/ninjabread-men-cookie-cutter.aspx and click on a note to receive an email when they are available.


Hutzler Manufacturing Co. has released 2 new sets in a 3D "Cookie Town" series. The first is a 5 piece set to make a cookie house approximately 3" x 3." Cutter pieces are red plastic with wavy hollow handles. The 2nd set includes 4 pieces to make a delivery truck. These are blue plastic with the same wavy hollow handles. The company indicates that is these sell well there will be more to come in the series.


"Home Made" Cookie Stamp Lets the World Know You Made It.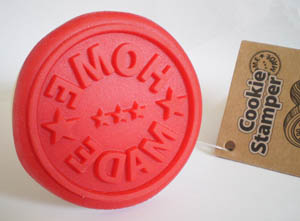 You can put your mark on your cookies with this silicon and wood stamp from SuckUK. Stamp is 2¾" diameter and imprints your cookies with the words "Home Made." It's from the UK but is also available at quite a few places in the US, including online at NerdSeven (http://www.nerdseven.com/
suckuk-home-made-cookie-stamp/)


May 2010


Williams Sonoma's has just released a set of Star Wars Cookie Cutters. The box includes 4 character cutters, Yoda, Darth Vader, Boba Fett and a Stormtrooper. The sturdy plastic cookie cutters have a spring-loaded inner design similar to sets they've released in the past. So far they are available only in stores and not online. Cutters are made in China exclusively for Williams-Sonoma. There is also a set of 3 Star Wars pancake shapers available.
March 2010
Stamp & Style Easter Cookie Cutters


Williams Sonoma's Stamp & Style Easter Cookie Cutter Decorating Set has an assortment of cutters, rollers and stamps that allow you to imprint your unbaked cookies with all kinds of creative designs. First choose a cutter to shape your cookie, then roll and stamp patterns on it. Lots of possibilities – and fun! The set includes four cutters in egg, basket, bunny and flower shapes; four rollers for making repeating circles, wavy lines, zigzags and straight lines; and stamps in six patterns: circle, daisy, tulip, bow tie, bunny head and basket weave. Cutters are approx. 4" wide and are a Williams-Sonoma exclusive.
Shamrock Springerle Mold from House on the Hill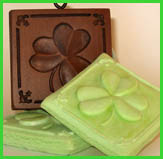 To help you celebrate "the wearin o' the green," House on the Hill has a new springerle mold of a shamrock. Item M11001 is an original mold by Vince Marine, new for 2010. It's 2 5/8" square and is completely new, not a reproduction of an old mold. As owner, Connie Meisinger says, "It's just for fun!" Available through House on the Hill.
New for 2010 from Brown Bag, and just in time for St. Patrick's Day, is their Irish Lace Shortbread Pan. Pan is 9" in diameter and makes 8 "petticoat tails" (pie shaped wedges of shortbread). The pan is available from House on the Hill, Cookie Art Exchange, Kitchen Kraft and a number of other places. Check the Brown Bag web site for a list of retailers in your area.
February 2010
Sweetheart Cutters from Kookie Kultura
The new cookie cutter company Kookie Kultura is shipping its very pretty Valentine's Day set of a kissing boy and girl cutters, a heart and a rectangle. They are available for $9.99 + $3 shipping through their blog http://kookiekultura.wordpress.com and click on "Purchase Here."
Ann Clark Ltd, "the cookie cutter people from Vermont" have an Olympic Rings cutter available for making cookies to root on your home team. Cutter is tin with their signature high rounded handle and is 5" wide. Available on their web site http://www.annclark.com/product/213/traditional-cookie-cutters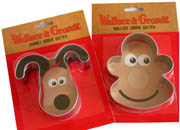 From England, we have 2 new metal outline cutters in the shapes of the cartoon characters Wallace and Gromit. Wallace is 4" high and Gromit is 3½." Sold individually, they are available from the official Wallace & Gromit website for 2.99 pounds ea. They are also available from a number of dealers in the UK.


January 2010
Kookie Kultura's New Line of Cookie Cutters
We've just recently found a new brand of cookie cutters. The "Kids" set of 4 cutters from Kookie Kultura is the first offering of what we hope will be many more. The stainless steel outline cutters consist of four children's faces - Sweetie, Spikey Mike, Em and Gigi. Cutters are 4"-5" and are FDA tested and dishwasher safe. Packaged in a clear acetate box with a butter cookie and icing recipe, they are imaginative and well designed. Company owner, Tracy Glenn promises a Valentine Set of 4 which includes a kissing boy and girl, rectangle and heart, will be available very shortly. While their website does not seem to be up and running yet, the Kids cutters are available for $9.99 + $3 shipping through their blog http://kookiekultura.wordpress.com and click on "Purchase Here."
Wilton for Valentine's Day
Wilton has a new Cookie Pan for Valentines Day. It's made of non-stick metal and features 6 heart shaped cavities, each one with a different imprint. Hearts are 3½" high x 4" wide. Overall pan size is 11" x 16½." Just press in your cookie dough and bake. Also available is a pan with 12 heart indentations that are smaller and different than the 6 version pan.
Also out from Wilton is a Hearts 3 pc cutter set with coated metal shapes in pink, rose and red. Cutters range from 2½" - 3."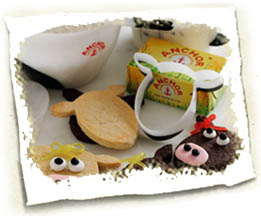 Anchor Butter Baking Kit
If you live in the UK or have friends there you may be able to obtain an Anchor Free-Range-Butter Baking Kit. Arla Foods Ltd, makers of Anchor Butter has put "cow codes" on specially marked packs of butter and spread. By saving them you can redeem them for free gifts. 30 "cows" will get you a baking kit that includes a measuring jug, bowl, spoon, spatula and a cow-shaped cookie cutter (in black & white, of course).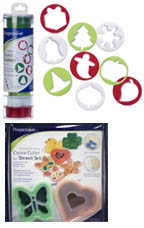 Progressive Spring & Holiday Sets
Progressive International has come out with 2 sets of cookie cutters recently. The first is a set of 9 holiday cutters for Halloween and Christmas. Cutters are approximately 2½" in diameter with a round gripping edge. They are intended to fit in the Progressive Roll and Store Rolling Pin that came out about a year ago. The colors in the rolling pin are red, yellow, and orange and using these instead changes the color scheme to red, green and white.
The 2nd set is called Seasonal Decorating Cookie Cutter and Stencil Set and includes a butterfly, heart, duck, shamrock, flower and bunny in bright spring colors along with a stencil that snaps on the cutter for easy storing. These shapes appear to be the same as 6 of the shapes in the 12 shape Cookie Cutter and Stencil Set which came out last year but now are in different colors. Cutters in the original set were all red.
Go Nuts For Dormice
The People's Trust for Endangered Species in the UK is having a celebration of the 21st birthday of the National Dormouse Monitoring Programme. To help commemorate it they are selling a unique Dormouse cookie cutter that includes a recipe for gingerbread dormice! Cutters are approximately $1.65 each (depending on the exchange rate and you can get ordering information online at www.ptes.org in their online shop.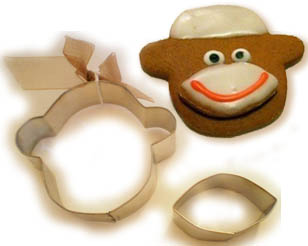 Sock Monkey
From Big Silly World, we found a stacking set of cookie cutters for a sock monkey cookie. Cutters make a 3 inch cookie and may be decorated to make your favorite sock monkey! $8.00 plus $2 shipping in the U.S. Contact Allison Freesland (guitarpikk@aol.com or 717-357-0235) to order.
International Cookie Cutters
Celebrate your heritage with these 4 country shapes from What On Earth catalog. The stainless steel cutters are each sold separately ($3.95 ea.). CD5716-Germany-4½"; CD5726-Ireland-5"; CD5736-Italy-5"; CD5746-Poland-4¼". Cutters can be ordered online at whatonearthcatalog.com or by calling 1-800-945-2552.


Pudsey Bear Cutters


Two new versions of the Pudsey Bear cookie cutter (the BBC Children in Need campaign mascot) are available exclusively from Lakeland, Ltd. in England. One is an impression plastic cutter in yellow, about 4" high. (Comments from customers mention that to get the impression lines to print, the dough has to be much thicker than usual.) The other is a similar shape in stainless steel, 4½" high, also with impression lines, but comments regarding this one are high in praise. A portion of the proceeds of both cutters go to the Children In Need campaign. You can order from the U.S. through their website at http://www.lakeland.co.uk but be aware that shipping is extremely high.


Sewing Machine Cookie Cutter in Gift Box
Brewer Quilting & Sewing Supplies is selling an exclusive sewing maching outline cookie cutter. It measures 5" wide x 3" high and comes in a clear acetate box with custom recipe card. Available on their web site at http://brewersewing.com, it's item #G0901 - $6.75 plus shipping. 800-676-6543.
My Guardian Angel Cutter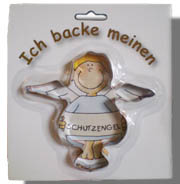 Michel Toys Handels-GmbH, a German company has a cute little metal outline cutter called "I can bake my Guardian Angel." Cutter is 3½" high x 4" wide and comes blister packed on a card with a little drawing of the angel.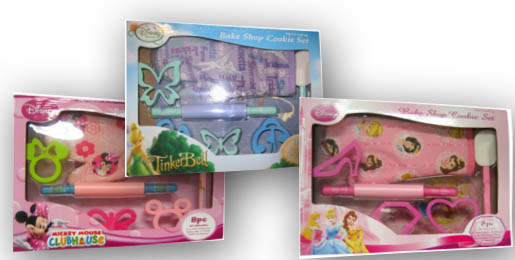 Disney has come out with 3 Bake Shop Cookie Sets. Each contains 8 pieces, an oven mitt, rolling pin, rolling mat, and spatula which are the same in each set except for color or fabric print and 4 cookie cutters. The cookie cutters differ with each set. The Mickey Mouse set contains Mickey and Minnie head icons, Minnie's bow and a butterfly (different than the ones in other set). Colors are lt. pink, deep pink and lime green with each shape available in all colors. The Fairy set has 2 butterflies, lady bug and flower in lt. blue and mint green with all shapes in each color. The Princess set has a lady's slipper, diamond, heart and tiara all in rose pink. Sets are available in limited supply online at the Disney store and in Toys R Us.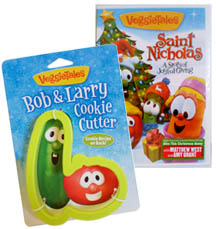 For a limited time, the Family Christian Stores chain is giving away a VeggieTales Bob & Larry Cookie Cutter with the purchase of a children's movie called St. Nicholas - A Story of Joyful Giving. The cookie cutter is plastic with a translucent cutting edge and a chartreuse silicon grippy top. Cutter measures 4½" high x 3¾" wide.
Lily Pulitzer Designer Cutters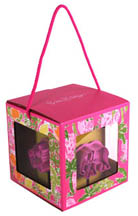 From the pink & green fashion designer comes her own set of 3 cookie cutters in hot pink. Cutters are monkey, elphant and palm tree each with spring loaded back that imprints details, similar to the Williams Sonoma cutters of recent years. Very well made and delightful for children. They are available from Lillypulitzer.com, www.preppyprincess.com and several other websites with varying prices.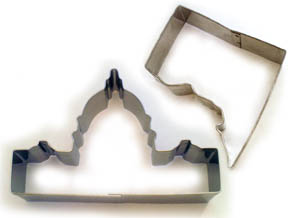 Hill's Kitchen, a gourmet kitchenware store in the Capitol Hill neighborhood of Washington, DC, is selling an exclusive stainless steel cookie cutter of the nation's capitol. The cutter is approximately 4" wide x 2¾" high and was designed by owner Leah Daniels in 2009. She also has a tin outline cutter of Washington, DC, made for her store in 2008. The Capitol Dome cutter is $3.25 and the Wash. DC cutter sells for $1.75. Please contact Hill's Kitchen, 713 D Street, SE, Washington, DC 20003 for purchasing and shipping information. 202-543-1997, email: Leah@hillskitchen.com
Springerle Molds from The Springerle Baker
Ken Hamilton, the Springerle Baker, has developed a line of springerle molds expressly adapted for the modern baker. They are durable and user friendly as well as being attractive for the collector. All molds are made with food safe products with no stains or varnish to wear off. Several designs are available now with more to be available in the Spring. The molds are exact replicas of originals that have never been released before as well as a few special limited edition exclusives. Their Santa mold (Item 1505) is the first in their planned limited editions and "SnowCat" (Item 1523) is another exclusive design. You can read more about these great molds at http://springerle.wordpress.com/molds/
October 2009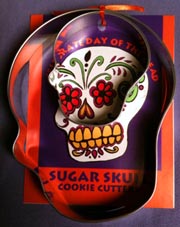 Mexican sugar skulls are traditionally used to celebrate Mexican Day of the Dead on November 1st and 2nd. You can order a set of 2 cookie cutters to make cookies for this holiday and see how to decorate the colorful skulls at www.mexicansugarskull.com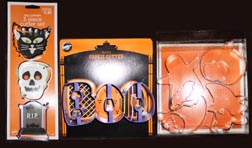 Wilton has several new Halloween sets for the season - a 3 piece coated metal outline set of cat head in black, skull in white and tombstone in purple attached to an orange card. There is also a set of B-O-O letters in their trio type cutters. Set is metal coated in purple. There is also an 8 piece set of metal outlines, 4 large cutters and 4 small that could be used for linzer type cookies. Wilton packages their cutters in different packaging depending on where they are being marketed. Several large retailers have their own exclusive packaging, so you may find several different cards or boxes all containing the same cutters.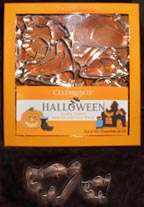 Michael's Halloween Set
Michael's Arts and Crafts Stores have a new boxed set of 20 Halloween metal outline cutters. The are packaged in a sturdy orange box with see-through window. Set includes 10 large and 10 mini cutters.
June 2009
Wilton's 2010 Yearbook Is Here
Wilton has announced that their 2010 Yearbook is out and will be in local stores by the end of this month and is available on the Wilton website with free shipping now. They promised that the book is their biggest ever, at 248 pages. The Michael's chain of arts & crafts stores is having an unveiling and introductory demo at many of their stores on July 11. Please check with your local stores for exact times.
Williams Sonoma Twist & Press Cookie Cutters

Williams Sonoma Kids has come out with 2 new cookie cutter sets that are quite unusual. One is aimed at boys and one for girls. Each cutter is approximately 9" long including 2 handles, similar to a rolling pin. The mid section is divided into three parts; a head, upper torso, and lower torso and legs. There are 4 different versions of each part that rotate around so that you can choose one of the four heads and any one of the four upper bodies to go with any of the lower bodies for a possible 64 different combination cookie cutters in each set. All have detail impression lines. One set makes robot cookies and one makes girls with various fashions. They are on sale now in Williams Sonoma stores for $19.95 each. A bit pricey but quite unique!

Phil Goods, a German company, has come out with a unique group of sturdy plastic cookie cutters in the shapes of well-known German landmarks. The five cutters are each in a different color and represent the Brandenburg Gate, the Berlin Television Tower, Neuschwanstein Castle (the Fairy Tale Castle), the Frauenkirche (Church of Our Lady) in Dresden and the Frauenkirche in Munich The cutters are well-designed with no lip and are available over the internet at Berlinomat.com. They are sold individually and cost 6.90 euros each (just under $10). Be sure to email them to find out postage first because it is very high to ship to the USA!
Brown Bag Has New Shortbread Pan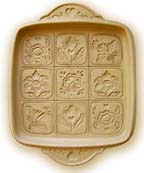 Brown Bag Molds has a new Shortbread Mold pan available called Alpine Flowers. The mold is approximately 9" square and is divided into 9 different square, each containing a beautiful flower. If you can't find it locally you can purchase it online from www.cookieartexchange.com.
May 2009
Michaels has new Pirate Cookie Cutters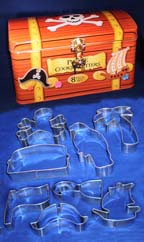 Michael's Arts & Crafts stores have a new Pirate Cookie Cutters set that is packed in a tin pirate's chest complete with lock and key. There are eight tin outline cutters, each approximately 4-5 inches packed inside along with a recipe card and the lock and key. Set includes skull & crossbones, treasure chest, parrot, palm tree, flag, pirate hook, pirate hat and ship. Sells for $16.95 by Base4 and is very cute!
Ikea Is Selling New Cookie Cutter Sets
Ikea stores have 2 new cookie cutter sets in their stores now. Sets are not available online. The first set of Drommar Pastry Cutters consists of 6 stainless steel animal cutters: moose, fox, bear cub, hedgehog, snail, and squirrel and sells for $3.99. The other set includes 13 pieces neatly fit into a 2 pc. round clear plastic storage box. Cutters are 1¾" deep and the ones we found are made of light teal blue polypropolyne although the picture on the label showed a much deeper blue (They may be available in other colors in some stores). They sell for $5.99.
December 2008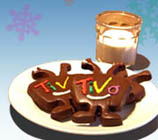 TIVO, the company that makes DVRs that let you record and pause live TV, is offering a free cookie cutter in the shape of their logo. All you have to do is go online to their website http://www.tivo.com/ whatistivo/cookiecutter/index.html) and sign up and they will send your cutter within 5-7 days while supplies last.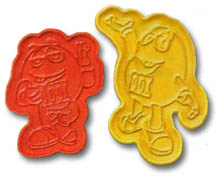 Walgreen's and M&M's have teamed together for a special cookie cutter offer. Buy $10 worth of M&M's brand Chocolate candies in 11 to 21.3 oz. bags at any Walgreen's Pharmacy, fill out the special rebate form in Walgreen's Easy Saver Catalog and mail it in to get your 2 M&M's Cookie Cutters (Red and Yellow M&M) and a Recipe Book. Receipt must be dated before Dec. 27 and received by Jan. 3. You can also find the Easy Saver rebate offers online as well as applying for the cutters online. Go to http://www.walgreens.com/ store/rebateclub.jsp and click on "download this month's catalog" to see the entire rebate offer or click "Claim Rebates" to order your cutters.
October 2008
A New Source of Copper Cookie Cutters
Poppy's Cookie Cutters is making sturdy copper cookie cutters with backs and wide handles. Started by Fred and Debbie Scalzo of Peyton, CO, Debbie writes: "We recently started Poppy's Cookie Cutters and work out of our home. Fred has over 25 years experience soldering, welding and working with metal. I dabble in art and love baking, especially Christmas cookies. Handcrafting copper cookie cutters is a new endeavor for us and we are vey much enjoying the process." Right now their great designs are selling on ebay but they should have their website up and going next month. They presently have 20 designs with many more to come. You can reach them by email at fdscalzo@msn.com
A Christmas Story: Ultimate Collector's Edition

To commemorate the 25th Anniversary of Bob Clark's Christmas classic, "A Christmas Story," Warner Bros. has issued the Ultimate Collector's Edition that includes the two-disc special edition DVD, a set of cookie cutters, a Christmas Story-themed apron, and a thin hard-bound photo essay/cook-book in a metal case that resembles a vintage cookie tin.
The kit includes an Apron with the film's logo on it, as well as a set of Cookie Cutters that include a star, house, turkey (or perhaps a Peking duck), a leg lamp, and an outline of Ralphie in his bunny costume. Cutters are made of sturdy tin. There is also a 48-page hard-bound "Recipe Cookbook" with several different kinds of cookies as well as other Christmas recipes. The set comes out on Nov. 4th and retails for $39.95 but you can pre-order it before that for $29.95 from Amazon.com. It is also available in BluRay for $34.95 which includes a string of Leg Lamp Christmas Lights in addition to the items in the other set.
August 2008
From Hammer Song, Betsy Cukla's Newest Cutter
"La Creche" from Hammer Song was released on July 11. The tin cutter has a flatback with imprint design and features the sleeping baby wrapped in a blanket in a straw filled manger. Cutter measures 3 5/8" w x 5 3/4" h and is stamped on back "© B. Cukla." Available from Hammer Song, email: hammersongtin@aol.com or phone: 715-266-2193 for more information.
12 New Cookie Cutters from Kitchen Craft.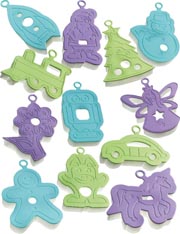 A clever and original group of 12 cookie cutters has been put out by the British company, Kitchen Craft. Each cutter is packaged on a card and sold individually. They are made of translucent white plastic with a gripping back of a silicone type product and include inner impression lines. Each cutter is approximately 6" and include a Santa, snowman, Christmas tree, rocket, train engine, car, fairy, pony, gingerbread boy, robot, monster and flower. All have a loop for hanging. They are available in the UK as well as through http://www.cooking-good.co.uk/.
Cuisipro has released 4 new sets of Snap-Fit cookie cutters.
Cuisipro, a Canadian maker of innovative kitchen tools who you may remember released 6 sets of Snap-Fit cookie cutter shapes several years ago, has just introduced 4 new sets aimed at baking with children. The original sets included 5 hearts, 5 Christmas trees, 5 geometric shapes, etc. all with round red handles. The new sets include a Nautical set, Farm Animals set, Train Set and Zoo Animals set. Each set comes with three shapes: Nautical includes sailboat, anchor & lighthouse, each with teal blue handles; Train set includes engine, caboose and coach car along with 2 small cutters for cutting wheels and windows. All fit nicely together with green handles. Zoo Animals set consists of elephant, hippo and monkey with purple handles and Farm Animals contain cow, sheep and bunny, all with bright yellow handles. Look for them in stores in the next few weeks or preorder them from Amazon.com.
July 2008
New Election Themed Cookie Cutters by Hammer Song.
Betsy Cukla of Hammer Song sends us news about two new cookie cutters made for the 2008 election year campaigns. The "Racing for the White House" elephant is 6½" w x 4¾" h while the "Good Luck Democrats" donkey with a horseshoe brand is 6½" w x 5¼" h. (Full size photo and additional details available in our database.) The cutters can be used any time but they can be made "political" Betsy says, by adding a paper flag in their mouths after baking. Simply insert a toothpick into the donkey's mouth or the elephant's trunk before baking. After baking a hole will be left for insertion of the flag when the toothpick is removed. Both cutters are original copyrighted designs by Bill and Betsy Cukla. The donkey is $18 and the elephant is $15, plus shipping on each. Please contact Betsy Cukla at hammersongtin@aol.com or 715-266-2193 for more information.
June 2008
Unusual series of "Meat" cookie cutters.
A new series of original handmade copper outline cutters has been created by San Francisco artist Sayaka. There are 6 cookie cutters in the series, each one a different piece of meat. The 6 consist of a lamb chop, sirloin end chop, t-bone steak, chicken drumstick, quail, and middle cut rib. Each cutter has a small copper tag permanently attached with the shape and, on the back, the artist's signature. The cutters are each sewn to a card containing a print of the actual cut of meat and they are packaged in individual cellophane bags with a stamped tag and tied with jute. The cutters are very sturdy and well made, costing $30 ea. plus shipping. They are available exclusively from Avandano's Meats, 235 Cortland Ave., San Francisco, CA 94110 (Ph. 415-285-6328).
German 3D Animal Set
The German company RVB Birkmann has a new set of 3D animal cutters out. The cute set of metal outline cutters consists of 4 animals shapes (duck, mouse, horse and bear) and a stand.
May 2008
New Stackable Cookie Sets from Wilton's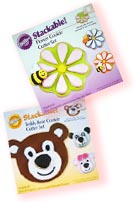 Wilton has released 2 new sets of stackable cookie cutters. Each set consists of a cutter for the main shape and 2 other cutters to make additional pieces that glue on top of the main cookie with icing. One set is a teddy bear face with mouth and nose pieces to add to top. The other set consists of a flower and the added pieces are flower petals to go on top and a bee. Check them out wherever you buy Wilton products.