We've had numerous requests to be able to see the cookies and cookie cutters we featured on our home page in past seasons so here they are, going backward from the most recent one to the 1st one we posted.
2014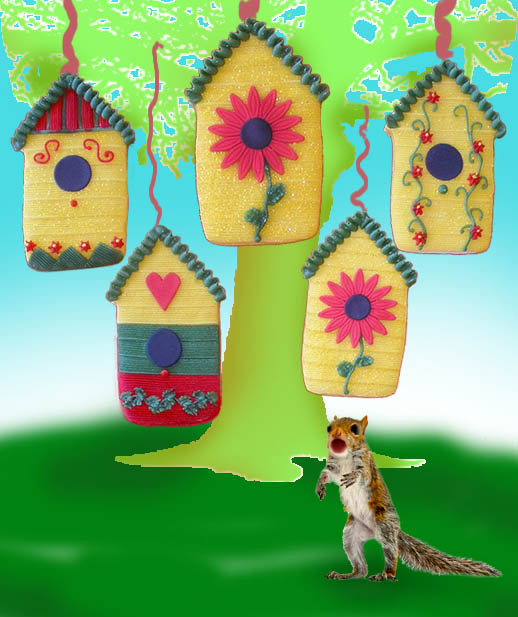 Our colorful Birdhouse Cookies are made by Kim from The Partiologist. Be sure to check out her blog for more of her clever creations. sure to check out her blog for more of her clever creations.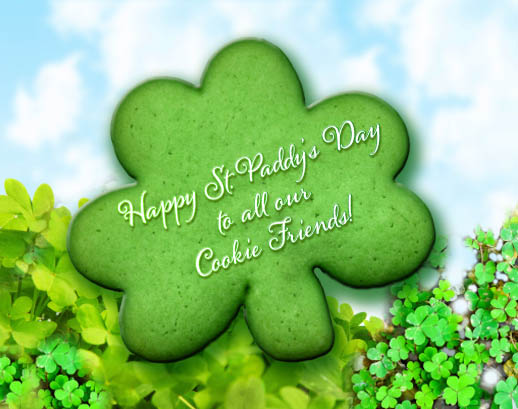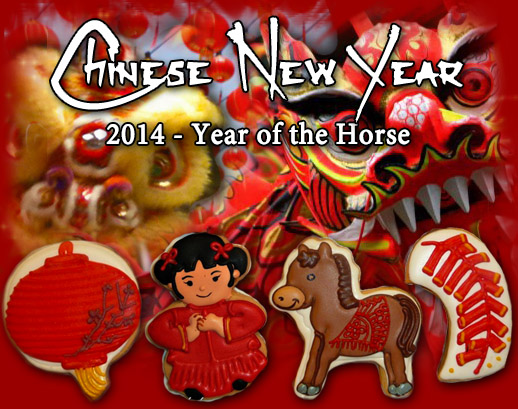 Our Chinese New Year cookies were made by Patty Chua of Patty's Cookies. See more of her creations at https://www.facebook.com/PattyCookies
2013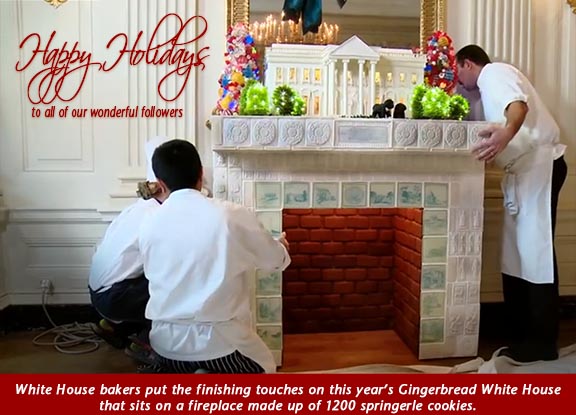 You can see a short video of the building of the 2013 Gingerbread White House here and also download a pdf of the springerle recipe used for cookies or one for making springerle decorations here.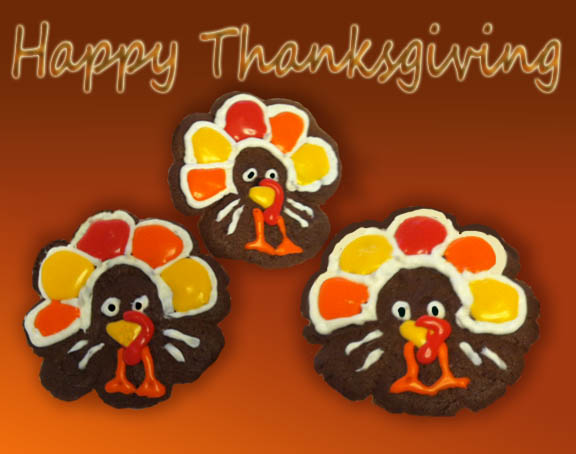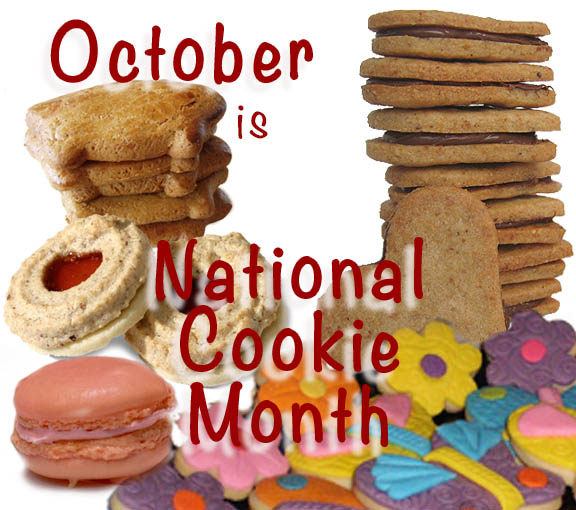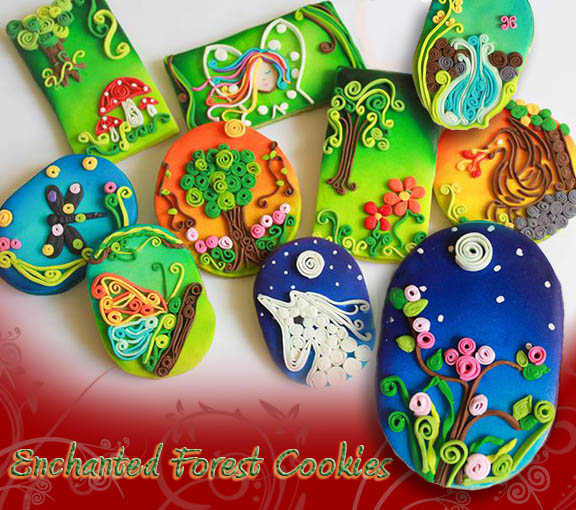 Some of the most clever and enchanting cookies we've seen come to us from Celebrations of Hong Kong. They've taken the paper art of Quilling to new heights by using the quilling technique with fondant to form all the designs you see here. They are also the winner of the Inspiration Challenge at CakeCentral.com. You can see more of the wonderful ideas of Celebrations on their Facebook page - http://www.facebook.com/CelebrationsHongKong

Linda Vandermeer from Brisbane, Australia, designed and made our little "Cookies Make Me Happy" cookies using rice paper and fondant. They definitely fit with our feelings about cookies. You can see her tutorial about how to create them on her blog - Bubble and Sweet.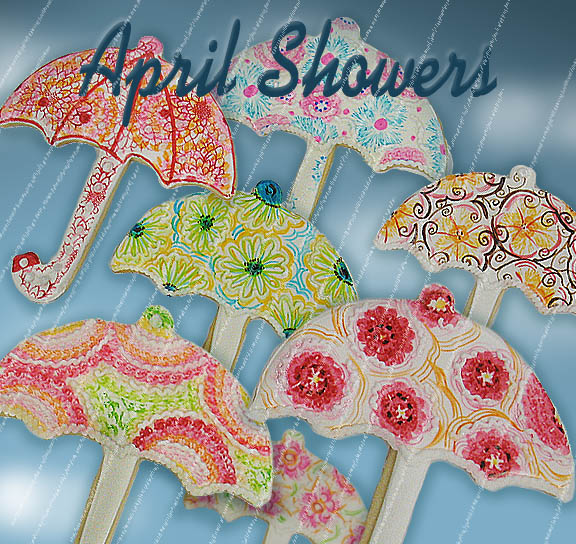 It's time for April showers and we are pleased to show you these beautiful handpainted umbrella cookies designed by Clare Welage of The Whimsical Whisk, Inc., whimsicalwhisk.com (317) 730-6802.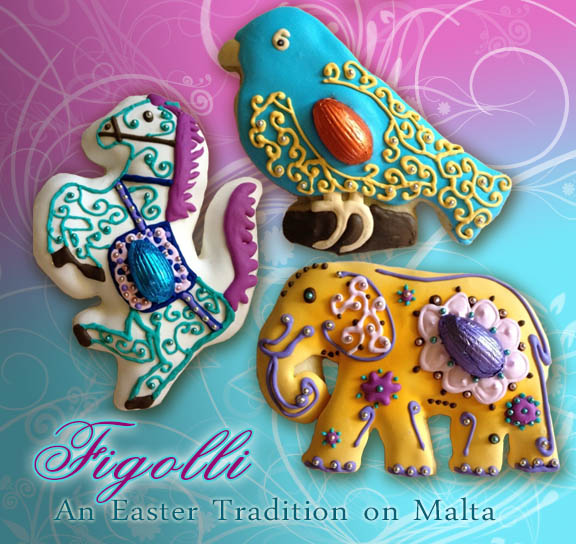 Maltese Figolli are a centuries old traditional Easter pastry. The ones we show here are made by Hope Vella. You can see more of how she did them on her facebook page "Nice Cakes & Sweet Treats."
To learn more about the custom of making Figolli, please check out our Figolli article here.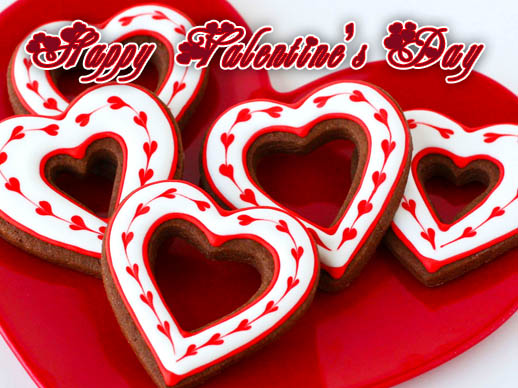 Our Simple Hearts cookies are from Glory at GloriousTreats.com. You can view how she made them at http://www.glorioustreats.com/2012/02/simple-heart-valentines-cookies-decorating-how-to.html


Our very clever stacked Snow Angel Cookies are made by Mike of SemiSweetDesigns.com. Check out his tutorial on how to make them at http://www.semisweetdesigns.com/2012/12/21/stacked-snow-angel-cookies/#more-1358
2012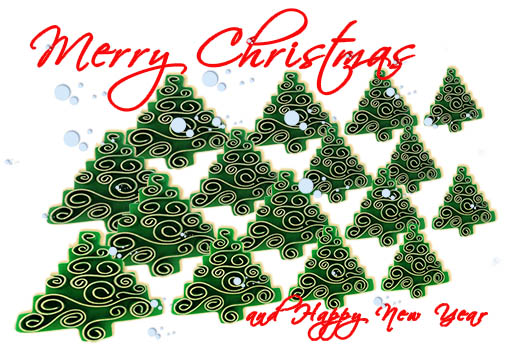 Our clever and creative Christmas Trees were made by Kim at The Partiologist. You can see her tutorial on how to make them yourself at http://www.thepartiologist.blogspot.com/2012/12/oh-christmas-tree-cookies.html. The cookie cutter she used is Homespun Christmas Tree, an exclusive, sold at Karen's Cookies.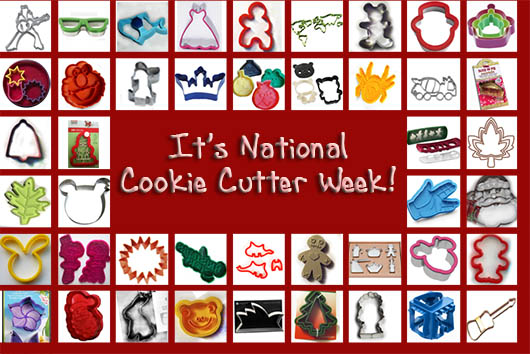 Since it's Cookie Cutter Week, we thought we'd have a little fun and test your cookie cutter knowledge. All the cutters above came out in 2012. How many can you identify. If you want to list all 44 of them and send to us (list from left to right, top to bottom), tell us the brand they are sold under, the name of the set and the shape. All winning entries will go in a drawing for a nice special selection of cookie cutters. Send your guesses to rhenry@cookiecuttersearch.com by 11:59 pm, Sunday, Dec. 9th.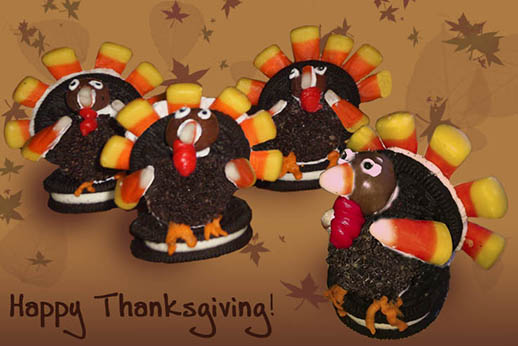 Our delightful Thanksgiving Turkeys are made from 2 Oreo cookies, candy corn, Ferrero Rocher Rondnoir for the body and Whopper malted milk balls for the head. Frosting is used for glue and the head and feet details.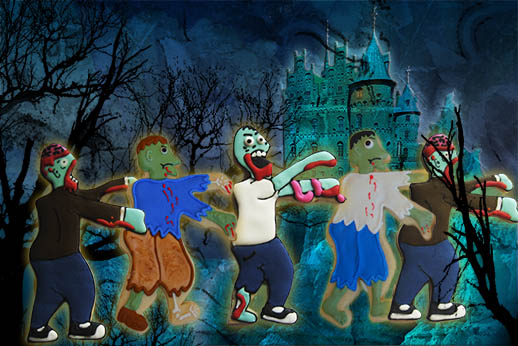 Happy Halloween! Our zombie parade is the work of 2 cookie artists, Sarah from Song Bird Sweets, who did zombies 1, 3 & 5 and Celeste of Pop Art Cookies for zombies 2 & 4. Why not make your own zombie parade. CheapCookieCutters.com has a zombie cutter available.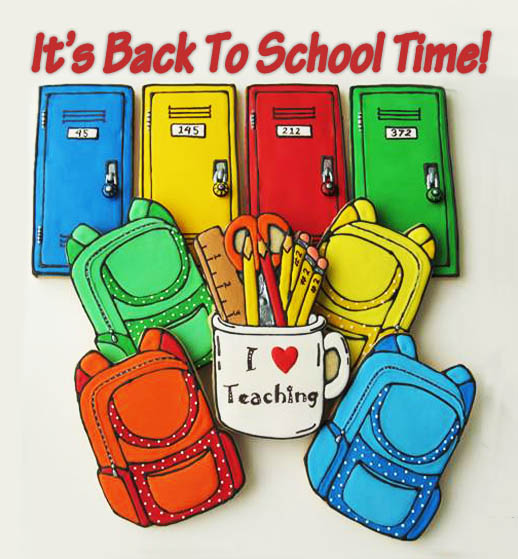 Our clever Back To School cookies were all designed and handcut by Susan (Kimsmom76) to give to her eldest daughter, a middle school teacher. The locks on the lockers are mini m&ms detailed with food markers and silver food coloring. (She used silver air brush food coloring right out of the bottle). The writing on the cup was done using a handcut stencil and black food markers. The white accent is food color straight from the bottle. You can see more of Susan's beautiful work on her Flickr page.

Here are some cookie cutters for your Summer Olympics cookie baking - Olympic Rings from Ann Clark Ltd (www.annclark.com); swimmer from Cheap Cookie Cutters (www.cheapcookiecutters.com); Olympic Torch from Copper Gifts (www.coppergifts.com); and gymnast and runner from Kitchen Collectibles (kitchengifts.com).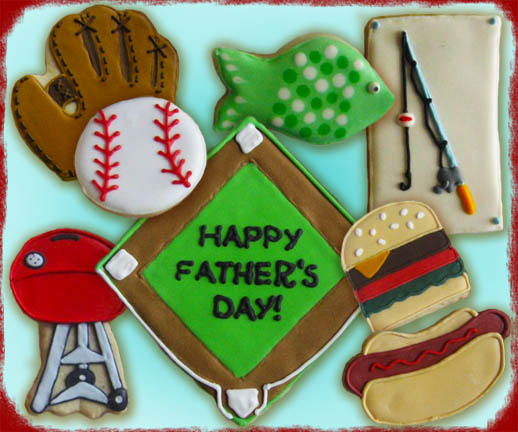 For Father's Day we feature this great collection of Father inspired cookies created by Sarah from SongbirdSweets.com. Thanks for sharing these with us.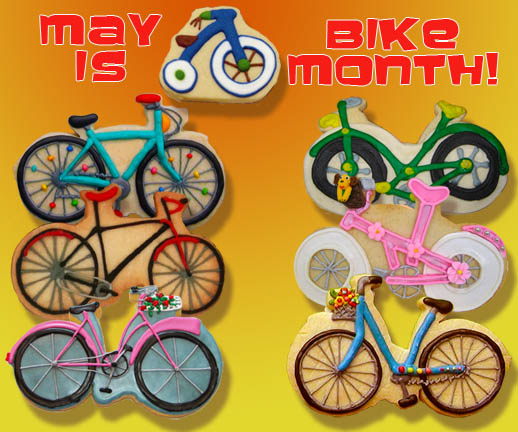 Our Bicycle Month collage of bike cookies is from: (top tricycle) Paula GT from Brazil; left column: top - Cookieartisan, middle - Bicycle cookies at the Capital Criterium, bottom - Ruthie'sCookies.net; right column: top - Ray George, middle - Copper Gifts Cutters designed by Susan Gish, - bottom - Cookie Artisan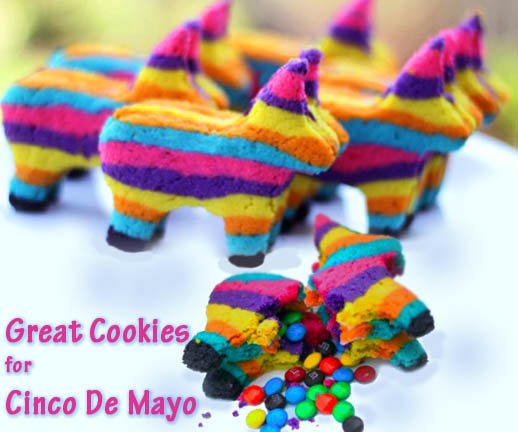 If you're looking for something different in cookies for Cinco de Mayo, try these very clever burro pinata cookies by Sandra Denneler. They are complete with mini M&M's inside for that special surprise. The complete tutorial for Sandra's colorful cookies is available at sheknows.com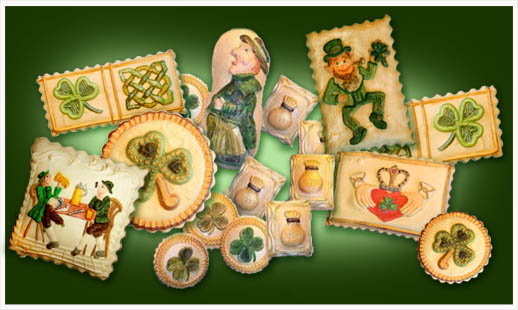 To celebrate the Wearin' O The Green, we're sharing the delightful Irish themed springerle from the talented sisters, Beth and Jan of Embossed Edibles. Check their website for more great creations!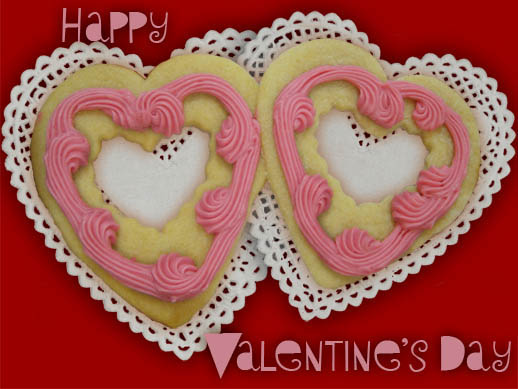 Our thanks to Susan Shaw from California for the lovely Valentine Hearts.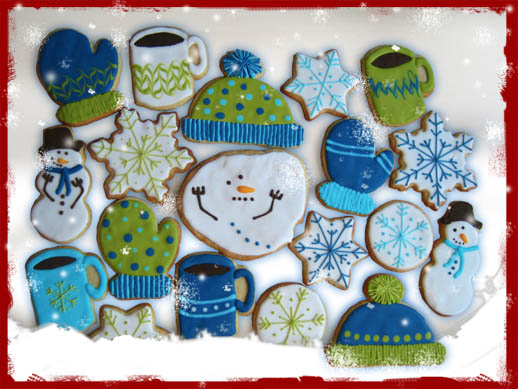 Louise from Denmark provided us with these Wintry decorated cookies. You can see more of her creations on her Flickr photostream here.
2011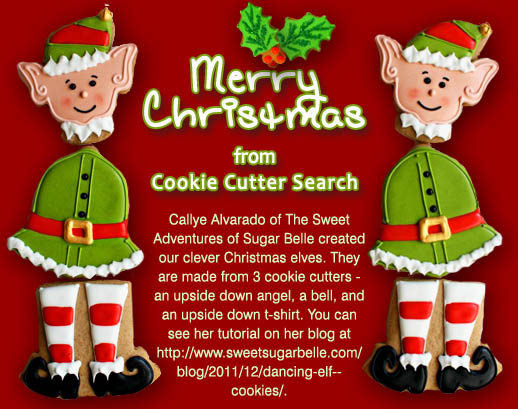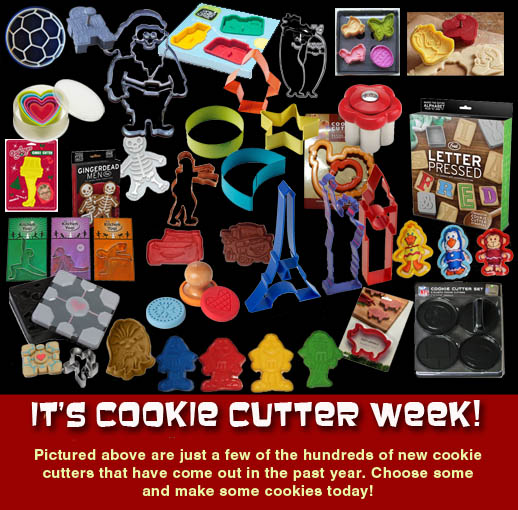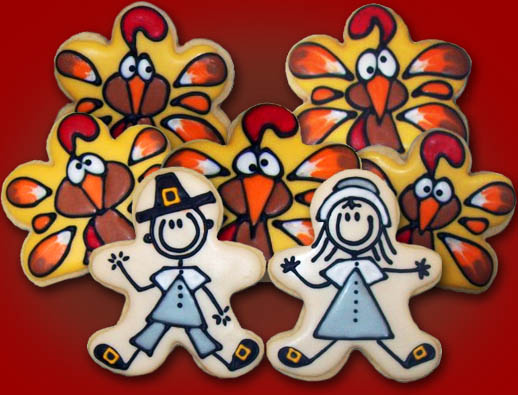 Our thanks to Jill Wettstein for allowing us to use her comical Thanksgiving cookies. You can see more of Jill's cookies on her Flickr photostream here.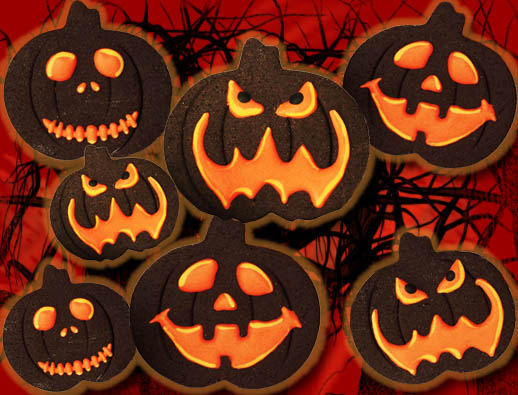 Our wonderfully spooky Jack-O-Lantern cookies were created by LilaLoa. Check out her tutorial on how to make them by clicking here.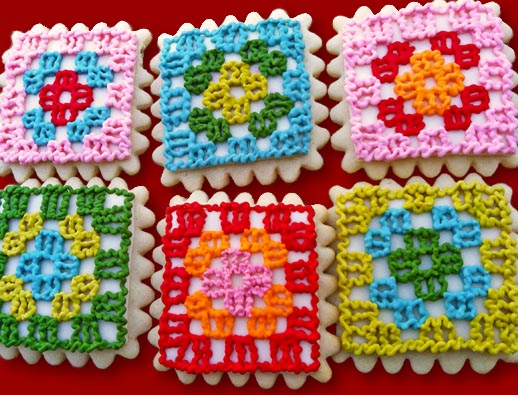 Our thanks to Emily Reiman of Sugar and Meringue for allowing us to feature her clever Granny Square Cookies. Click here for her tutorial on how to create them.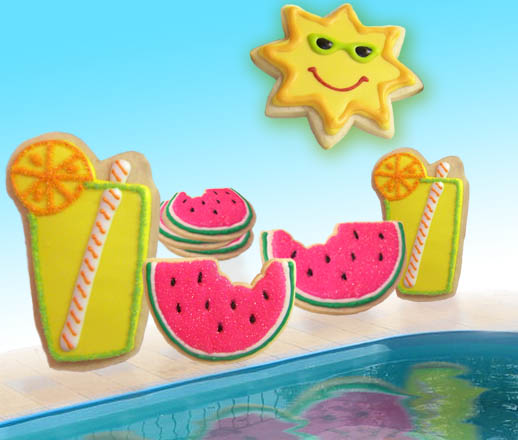 Our Poolside cookies are from Johnna Phillips, Polka-dot Zebra. Check out more of her great cookies on Flickr.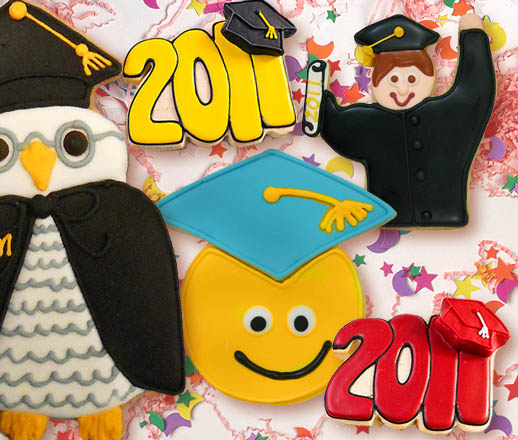 Our Graduation cookies are all made from copper cutters by CopperGifts.com. Our thanks to K-Delights for the 2011 with mini Hat, Susan Gish for the Smiley Face Grad and Susan Schmitt of The Painted Cookie for the Grad Owl and our Happy Grad.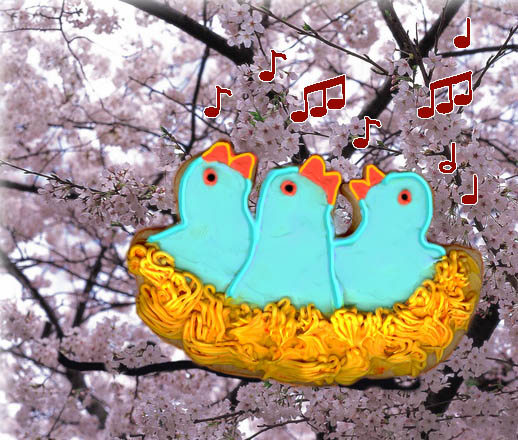 "Waiting for Mother," a cookie cutter designed and sold by Cookies in 1997 was used for this singing birds cookie. Cutter was crafted by tinsmith Peter Blum, III of North Carolina.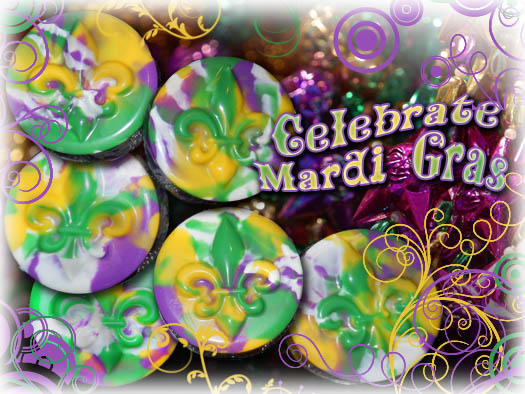 Our festive Mardi Gras white chocolate molded oreos were created by Kristy Renee Perkins of Ohio using a mold by Spinning Leaf.com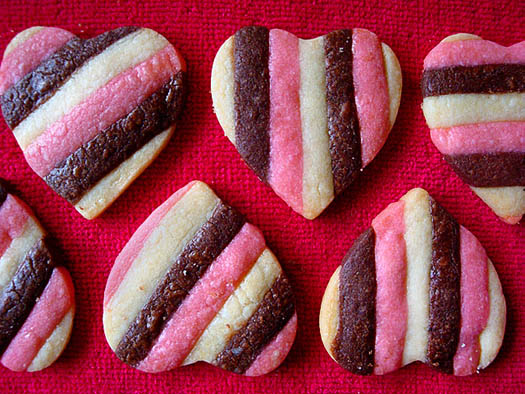 Valentine Hearts by Heidi Bauer of Cindy's Confections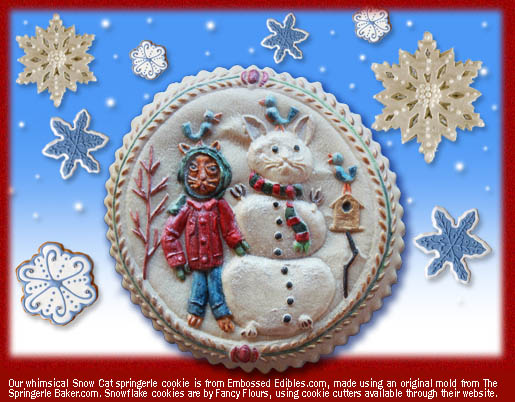 2010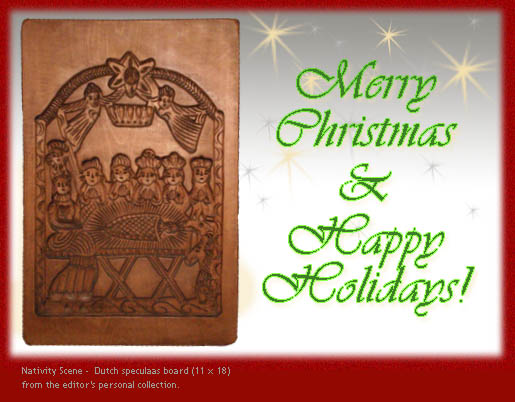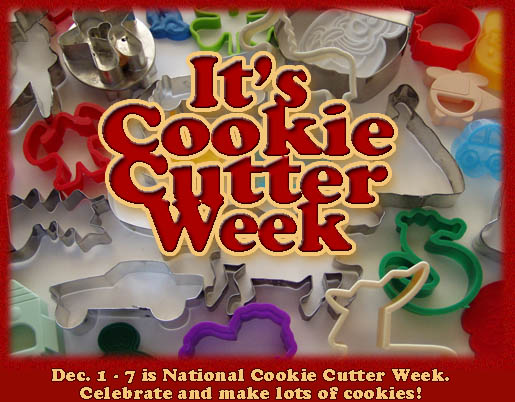 Our thanks to Ann Clark Ltd. for letting us use their Mincemeat Turkey Tarts photo created with their turkey cookie cutter. See Ann's blog entry with recipe here.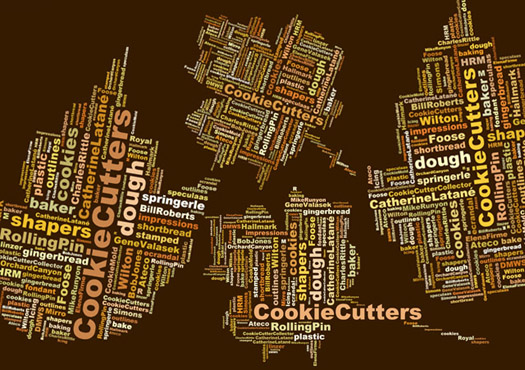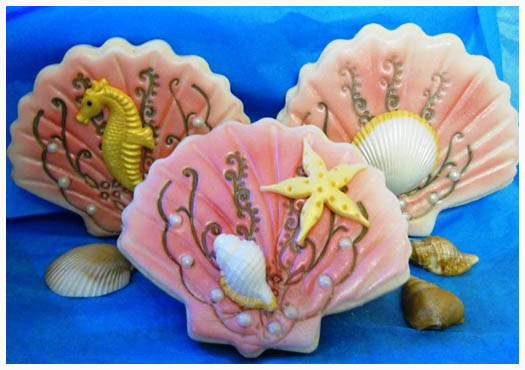 Beautiful Scalloped Sea Shell Cookies created by Carole Firstenberger using a copper cutter made by ECrandal.com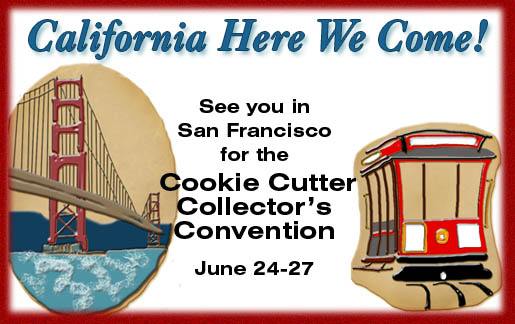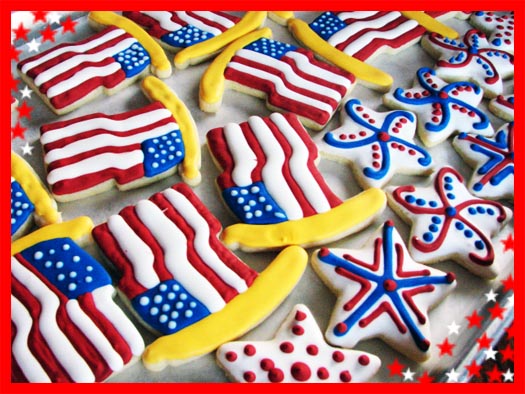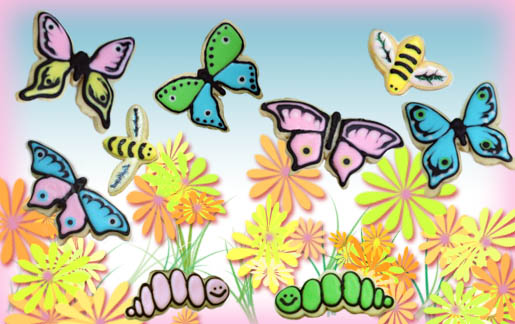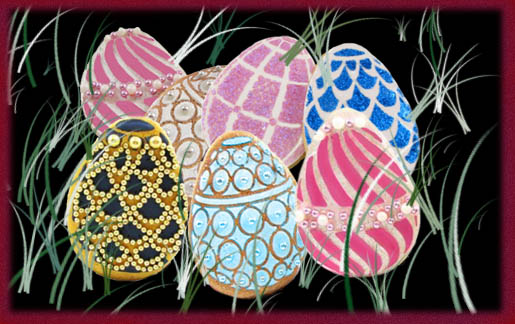 Our beautiful Faberge Egg Cookies for this Easter Season are from FancyFlours.com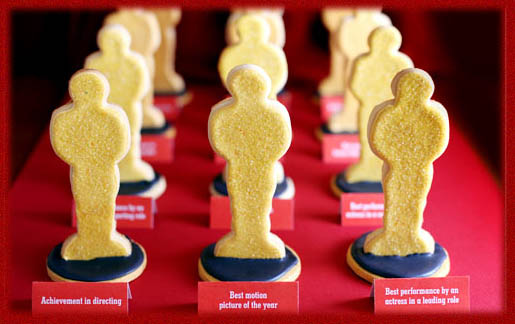 Our thanks to Bakerella at www.bakerella.com for letting us share her great Oscar Cookies with our readers. For a tutorial on making them please click here.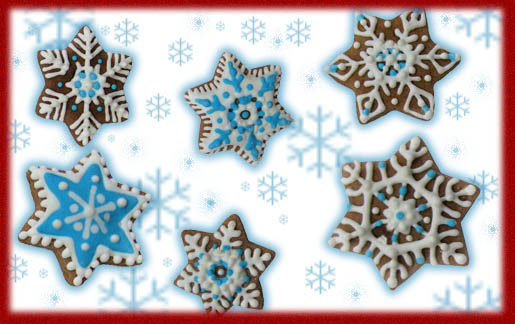 2009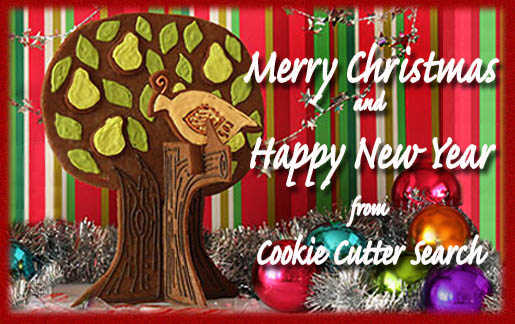 We'd like to thank Megan from notmartha.org for sharing the lovely Gingerbread Partridge In A Pear Tree with us. For complete instructions on how to make your own Partridge In A Pear Tree please check out her NotMartha website.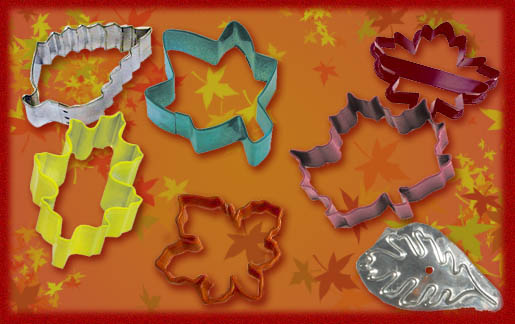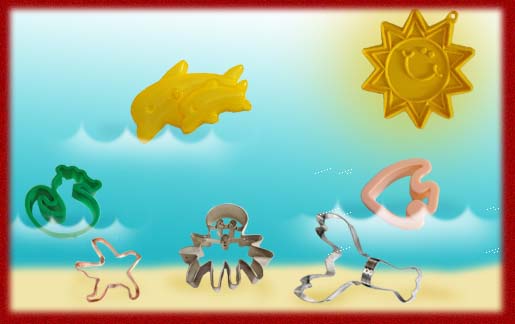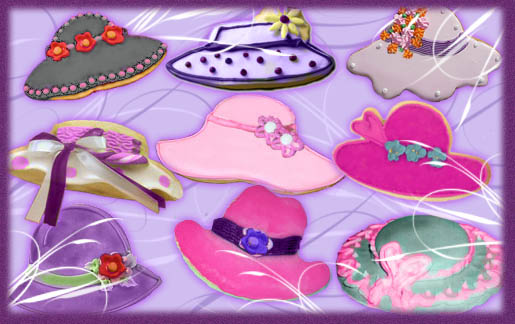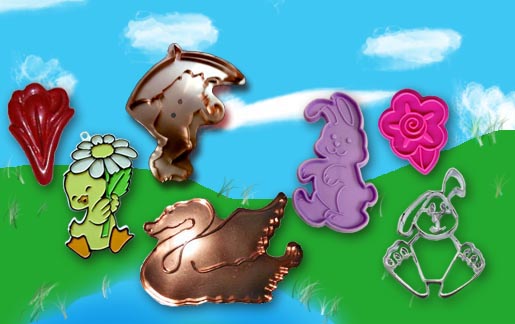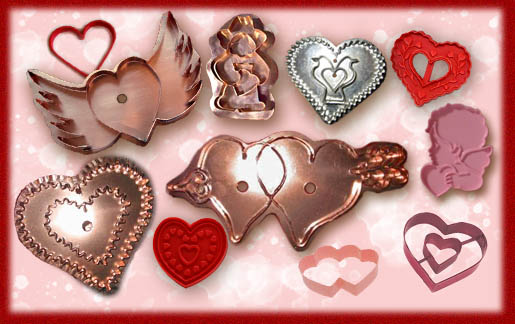 2008